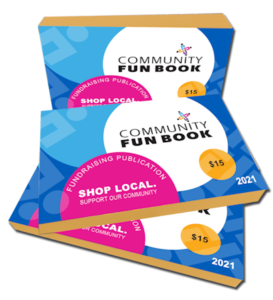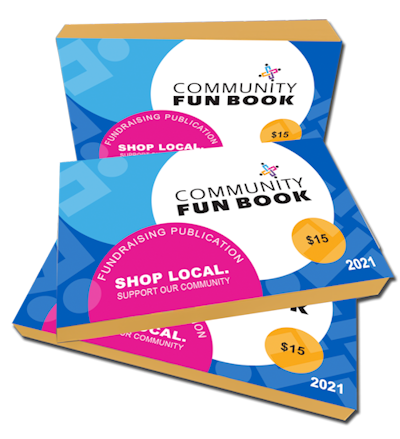 Promote Your Business for FREE!
The community Fun Book is a locally owned, operated and printed fundraising coupon publication.
The Fun Book has been in operation for over 15 years.
The Fun Book is filled with FREE offers and fabulous discounts from LOCALLY owned and operated businesses.
WHERE ARE THE COMMUNITY FUN BOOKS SOLD?
The Community Fun Books are a fundraising solution. The books are not sold retail. Any local organization, big or small, needing to fundraise is eligible to sell the Fun Books. Various organizations include, but not limited to; area school, sports teams, choirs, bands, and youth groups. If an organization is looking to raise funds, the community Fun Book is here to help.Organizations sell the books for $15 each and profit $8per book.
WHAT IS THE ANNUAL DISTRIBUTION?
Over the past 15 years, the Fun Book's annual distribution ranges from 5,000 – 7,900 in circulation per years. Books are usually published in August and are valid thru 12/31 of the following year. This year, due to COVID, we will not begin publishing until the end of Oct.2021. The books will expire 12/31/2022. It is hard to say what distribution will be this year.
WHO CAN ADVERTISE AND HOW MUCH DOES IT COST?
Any locally owned business is eligible to participate at NO COST providing we have pages available. The Fun Books is limited to 100 pages. Businesses are asked to provide a coupon of value to the purchase so that the organizations selling the Fun Book have a great fundraising tool. It's a win, win. Local businesses advertise free. Local organizations sell the book. The community use the coupon to visit the businesses This book is truly about the COMMUNITY SUPPORTING THE COMMUNITY.